Our Counselors
Talented, trusted and here for you
Why Are Our Counselors So Trusted?
To be our best, we know that talent is the key. Among our highest priorities is the quality and professionalism of our Counselors. Our network of world class counseling professionals embodies the exceptional knowledge, expertise, top techniques and abundance of patience and caring that you deserve. You're in great hands with eVideoCounselor.
A key talent differentiator is our Sixth Sense™ counselor performance model, which allows us to build a network of A-players that have the "Sixth Sense" - intuitive listening, understanding and guidance.
Our multi-step selection process includes
one-way video interviews, anonymous reference checks

live video interviews

rigorous selection standards

background checks

education, licensing and credential verifications

evaluation of client service skills
Throughout the selection process we not only check for how someone presents themselves on camera, but how easy they are to connect with, and what they do to create a warm and welcoming environment for their clients. We know that a natural dynamic with your counselor allows you to get to the issues faster. This is at the very core of the therapeutic relationship. Our Coaches receive on-going learning opportunities on confidentiality, compliance, client experience standards and effective communication techniques, as well as peer support and clinical review.
All our counselors are Master's-level clinicians, with degrees in counseling, psychology, behavioral science, social work or an equivalent field of study, and hold a full, current, and unrestricted license to practice in their state of residence.
Our counselors are specialized in dealing with specific issues including stress, anxiety, depression, addictions, eating disorders, self-esteem, trauma, PTSD, marriage counseling, family relationships, LGBT matters, grief, OCD, panic attacks and more.
We only select the best of the best, because your relationship matters to us. You can count on attentive, thoughtful, and expert guidance as you start your journey to a healthier, happier life.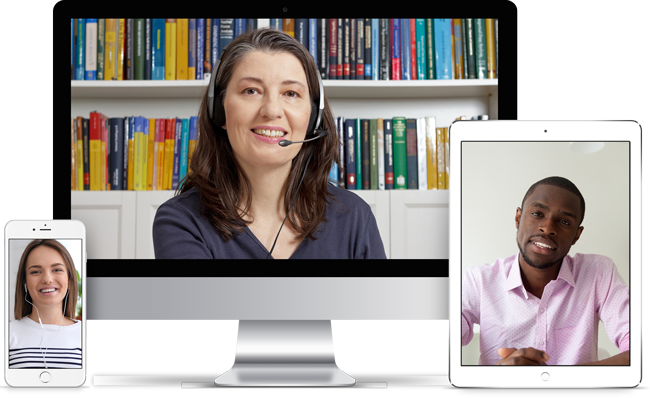 We pair patients with superior counselors to guide them on a journey of healing, hope, and freedom.
Our unparalleled Counselors are the best licensed, Masters-level professionals in the country:
10,000+
Suffering from Anxiety
10,000+
Suffering from Depression
Testimonials
We're helping awesome people everyday find new beginnings
It's been very hard for me to get to a counselor because I'm so busy with my kids and their lives. Video counseling makes all the difference for me and my life.
This is the first time I've ever felt I could talk about my issues and really feel like it's confidential. The privacy and confidentiality of eVC is great.
I really appreciate the ease and flexibility of online counseling. I feel like I know my counselor and she knows me – the personal connection is still there even though I don't have to go to an office.
Are You Covered By Insurance? We'll Find Out For You
75% of our clients get the full cost of treatment covered by their insurance, you probably can too. Submit your info below and our care coordinator will do the research for you and reach out within two business days.
Let's Get Started
Scheduling your first session is quick, easy and totally confidential. Pick a day and time window that works for you for your first session and our care coordinators will match you with the perfect counselor.
Still Have Questions?
Download our Free treatment E-Book or schedule a Learning Session with one of our team members.